Live the Laurel Falls Life
Spread over 18 acres, Laurel Falls offers four traditional craftsman style log residences that will make your family and friends feel at home year round. The property boasts incredible natural features: natural waterfalls, wooded walking trails, dramatic rock outcroppings, native plants, and unrivaled mountain views. Each home has its own character and amenities that make Laurel Falls much more than just a place to rest your head.
THE LODGE
Offering sweeping views of the Blue Ridge Mountains, the five bedroom Lodge anchors the entire property An original stone porch runs the length of the lodge and allows you to enjoy a breakfast at sunrise or soak under the stars in the hot tub. At the back of the lodge enjoy the covered pavilion to find a peaceful moment or host an al fresco dinner party.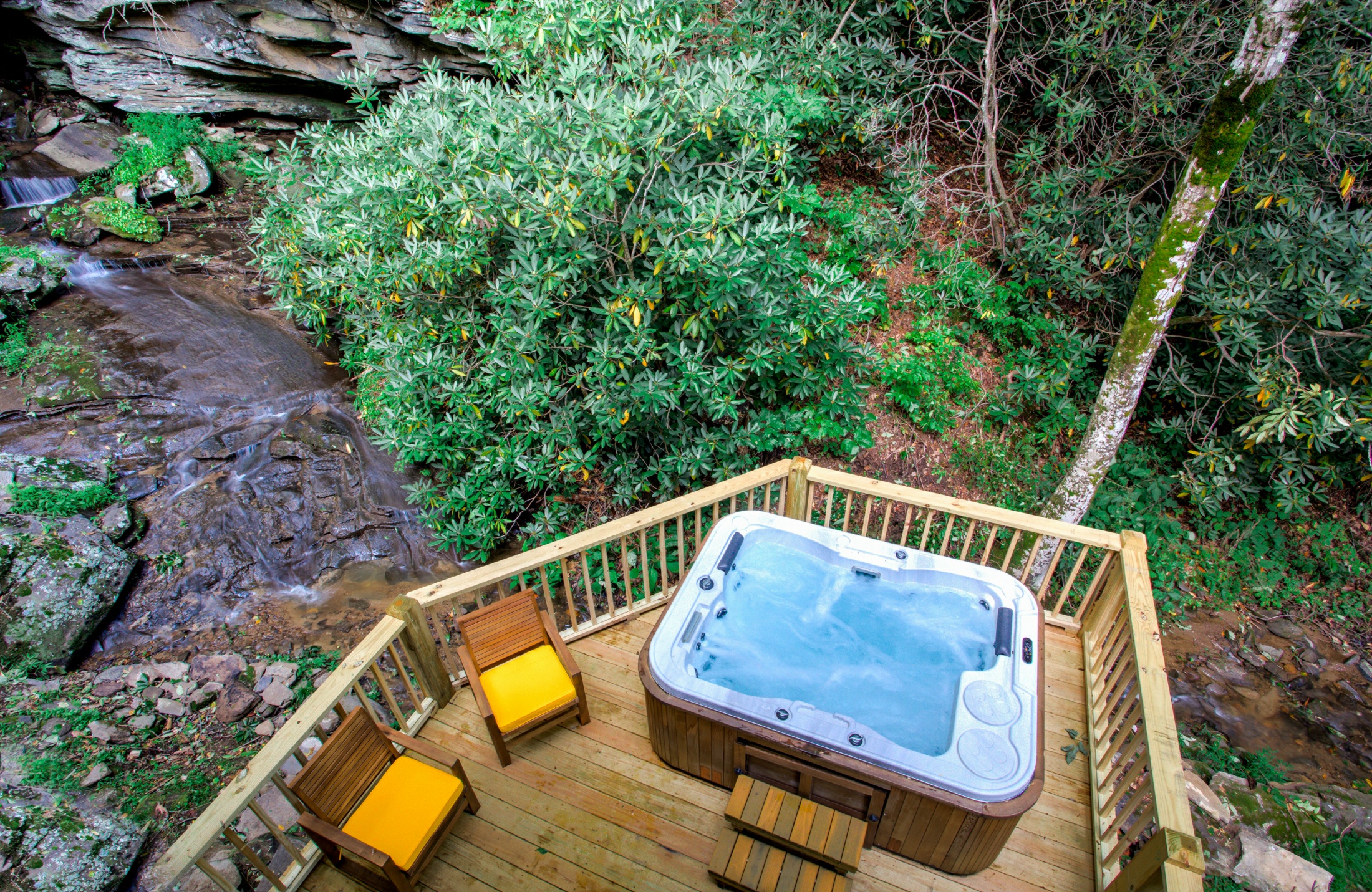 THE WATERFALL CABIN
The two bedroom cabin was built as a modern addition to the historic property. Framed by native rhododendron, the home overlooks its own natural waterfall and rock grotto.The cabin has a two story deck, the lower level extending over a creek and featuring a private hot tub.
The Chestnut Cabin
Nestled amongst rock outcroppings, periwinkle and native plants, The Cabin serves as the gateway to the lower property and gets it name from the original hand hewn chestnut logs that make up the lower half of the building. Settle in to the cozy living room with the wood burning fireplace, lofted bedroom, and wraparound porch.
The Carriage House
A comfortable one bedroom apartment, beautifully renovated with a full kitchen. Framed by stunning, natural boulders, it is a cozy getaway that features a private back patio and fire pit.
A mountainside property at an elevation of 2,800 feet, Laurel Falls is a 20 minute drive to downtown Asheville, 10 minutes from the Blue Ridge Parkway, and 30 minutes from Asheville Regional Airport. The property neighbors the rural community of Fairview, which offers craft food, outdoor activities, and breweries.
Laurel Falls is a property like no other. Combining the timeless craftsmanship of the 1920's with over 30 years of refinement, this estate is a dream become reality. Come join us, breathe in the mountain air and listen to the flowing waters. You'll find out first hand why Laurel Falls is the premier vacation destination in Western North Carolina.
Click below to learn more about our property and to reserve your vacation at our reservation partner site.